June Reading: Yes! No! and So So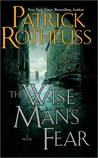 The Wise Man's Fear
by
Patrick Rothfuss
(
Via Audio and Hardback).
This is one of my son's favorite authors. He grew up on Harry Potter, so I read the first book in the series and thought it was excellent, so I shared it with my then young teenager. I also said in my mind that Rothfuss could be as talented as some of the fantasy greats, but I would have to read the second book to know whether he is. Husband and son loved this book, and while I liked it, the first was better for me. Still, I will read the third which just came out, and then I think I'll be ready to proclaim Rothfuss a great, great fantasy writer?
This quote sums up Book Two to me --
"Knowing your own ignorance is the first step to enlightenment
."
Without giving anything way, book two is quite the journey for enlightenment.
Kvothe is still in school, and is getting a little bit cockier, a little bit richer, and a lot bit still in need of enlightenment. Just in the way that Kvothe learns to split his mind in order to win battles, Rothfuss kept splitting my mind with the endless stories in this book that spun off of the main story. Kvothe has to go on a journey, goes on another journey, goes on another journey, goes on another journey. . . I just kept wanting it to quit splintering.
Also, I wasn't all that in love with the sex nymph journey, but while I was reading I was keen enough to think: "I bet the men love this. Maybe that is what it is like for them to read my favorite romance/historical romps, such as the Outlander series." Sure enough, when I mentioned to them where I was and that I was ready for that part to be over, they both looked at me dumbfounded. Of course, it was essential to the story, I just didn't love it. I also, sadly, got a little tired of the writing style, which I loved the first time.
Still, I like the story enough that I will read the third book, so that says something. In the end, I am glad that the
2014 TBR Challenge
put this back in my line up, rescued from my languishing pile of books on the bookshelf.
*********
Written in My Own Heart's Blood
by
Diana Gabaldon
(
Via Audio
). I purposefully didn't rush through this. Love these books, and getting to enjoy a new one is like slipping into a warm blanket on a cold winter's night. Just where you want to be, with Jamie and Claire and the kids. Chill moments, Aha moments, Tearful moments. Just right, no spoilers here.
Also an easy short read is (Shocking that Herself does write short novellas! Not shocking that they are great.)
The Space Between
by
Diana Gabaldon
(Via my eReader). Fun and satisfying novella in the Outlander world. New and old characters. I'm such a fan and this little book demonstrates why. Gabaldon is a modern Dickens. Lots of stuff always going on in her books, many characters, big picture points, a bit romantic (but smart), and safe but wild at the same time. I also like that her characters are like real people -- you get it all, for example, not everyone is a Christian and not everyone is an Atheist, and life questions abound. Getting ready for the new Outlander series on Starz and the new book, both magically released this summer, this is the perfect teaser.
**********
All the Light We Cannot See
by
Anthony Doerr
(
Via Audio)
Very good book, literary and historical fiction with enough of a hook throughout most of it to keep the pages turning. The ending really got to me, not to give anything away, but it really drove home how the generation that saw WWII is passing, leaving us all in the dark once again. Light, and even radio waves and the house are additional characters in this book. It also reminded me how few books are told with a blind POV, that was very interesting. Here is a haunting quote from the book:
"Open your eyes and see what you can with them before they close forever."
**********
Strangely, I had TWO BOOKS that I put down! I never do that, is it me or does the fault lie somewhere else?
PUBLISHER'S BLURB -- From the author of the worldwide bestseller Room: "Her greatest achievement yet...Emma Donoghue shows more than range with FROG MUSIC--she shows genius." -- Darin Strauss, author of Half a Life
Summer of 1876: San Francisco is in the fierce grip of a record-breaking heat wave and a smallpox epidemic. Through the window of a railroad saloon, a young woman named Jenny Bonnet is shot dead.
The survivor, her friend Blanche Beunon, is a French burlesque dancer. Over the next three days, she will risk everything to bring Jenny's murderer to justice--if he doesn't track her down first. The story Blanche struggles to piece together is one of free-love bohemians, desperate paupers, and arrogant millionaires; of jealous men, icy women, and damaged children. It's the secret life of Jenny herself, a notorious character who breaks the law every morning by getting dressed: a charmer as slippery as the frogs she hunts.
In thrilling, cinematic style, FROG MUSIC digs up a long-forgotten, never-solved crime. Full of songs that migrated across the world, Emma Donoghue's lyrical tale of love and bloodshed among lowlifes captures the pulse of a boomtown like no other.
PUBLISHER'S BLURB --

In this mesmerizing debut, a young American discovers he may be heir to the unclaimed estate of an English World War I officer, which launches him on a quest across Europe to uncover the elusive truth.
Just after graduating college, Tristan Campbell receives a letter delivered by special courier to his apartment in San Francisco. It contains the phone number of a Mr. J.F. Prichard of Twyning Hooper, Solicitors, in London and news that could change Tristan's life forever.
THESE LAST TWO JUST DIDN'T WORK FOR ME. HAS ANYONE READ AND LIKED THEM? THE LAST BOOK I PUT DOWN WAS NIGHT CIRCUS, which so many people loved, but I just couldn't do it.