On Dancing . . . more of the story
I'll be honest with you, I'd rather be dancing than blogging. But the event is over, I'm looking at my treadmill with freshly jaded eyes, so many of you have said how you've been inspired to dance, and I've got some awesome pictures and a story to share, so here is more of the story for you. Here is one of my favorites:
Viennese Waltz to James Brown's It's a Man's, Man's, Man's World
It was so easy for us that I took it as a good sign. We actually nailed down the James Brown song ( It's a Man's World) first, and then decided on Sway and El Tango de Roxanne within the first 5 minutes of our first lesson. That went pretty much like this:
"Hello, Sydney!"
[Hug, as is done in performance arts world]
"Hello Rangel, is that right? The Tango is on my bucket list. Can we do that dance?"
"Pronounce it any way you want and Yes, we can do the Tango."
"Oh! Well, I think you should tell people how you want your name pronounced. It's your name and it drives me crazy that Americans don't try, but WOW Really? Don't you need to see if I can do it first?"
"No. Let's do it. We can do it. Let's go for it."
"Wow! Ok. Well, I want to dance the Tango to El Tango de Roxanne."
"I've actually done the Tango in a contest to that before."
"Awesome."
"It is not a good song for the Tango, it does not have a musical beat to keep time to at first."
"Can't we just splice it up as we need it? I really want it to be to that."
"We'll do it."
"Great!"
FYI, Rangel likes things to be his way. And I like things to be his way -- he's the pro, his way is the best way. So the way he made El Tango de Roxanne his way was to get a good recording with the actual voice over from the movie, so that we had the voice as beats to move off of. LOVED IT. And by your reaction, you did, too! Every time we actually performed it (all three or four times, ha!) there comes a point or three in the dance that you can feel the audience / viewers gasp. Very cool.
Anyway, the first conversation continued:
"Are we learning the Tango today? "
"No, today we are learning the Viennese Waltz so turn your head, don't look at me."
Not so easy to do, but that's another issue.
And five double dance sessions into it:
"So, are we learning the Tango today?"
"No, next time. Because, while you learn fast, you don't remember anything I've told you and I have to keep helping you remember that it goes one, two, three cha cha, not one two, cha cha cha."
-- For the record, I blame the evil mom on Hairspray, because in my mind she chants: "One two, cha cha cha." Also for the record, Rangel isn't really into excuses, so I didn't bother to explain on that one.
That's also the dance that I actually said: "So help me remember -- does the turn happen on one or three?"
"Neither, it happens on two!"
Did I tell you that I eventually began saying: "I've died and gone to Tango heaven and Cha Cha hell!" I would get nervous and sluff into cha cha when it wasn't time and hear that I was off with the music and go into a tail spin. So I eventually learned every "pop" step with the music it actually happened on. That way, if I got off, I knew exactly when to pop back in. Came in handy, because on a big turn I dropped the cha cha, but easily found my way back in for the fun attitude flashing my ring move. Besides the BIG mistake [Note to self, if the really slippery floor makes you off balance after the big turn, don't do the kick!! You'll end up making your worst fear come true and your partner will look at you with really sad eyes after his head has been kicked!! And despite both of your best efforts, it will not make it into the really cool newly invented dance moves book!!], that's the only mistake I made on the Cha Cha from Hell. Not to say that I did it technically correct, that's a whole different ball game.
Anyway, I really loved the music choices everyone made for the event -- so much fun! The crowd really got into it, so the music did what it was supposed to do.
Once you know your dances and music -- even if you haven't learned them yet -- you move on to clothing. [Note on shoes - buy them a size smaller!] Just to keep it real, I'm letting you see a picture of some of the family members who were very interested to see all these strange goings on.
They were constant companions on many self dance sessions. They are pretty good at rhythm, and never tripped me up getting out of my way
:
I won't go on about clothes, I'll just say I stressed and stressed over them.
FYI Julie Mac, you can rent this dress or any other one that suits your fancy from Rhythmic Rentals! However, you can't rent "Fabio." His so sweet and incredible partner, Veronika probably wouldn't go for that! Here is one of my favorite pictures of them, you should check out these champs -- CLICK HERE FOR A LINK TO THEIR FACEBOOK PAGE -- If you scroll down on it just a bit you'll see they were recently in the company of the great Shirley Ballas! I wish them the very best!
Veronika probably doesn't know it but her little acts of kindness to me made all the difference. Always very sweet and encouraging, when Rangel would overwhelm me (I know you can't imagine that! -- not that he wasn't always such a great teacher and wonderful to work with, he's just so darn good its a bit overwhelming), she always made me feel good. Thank you Veronika! Same thing with my husband -- he was 100% behind me, even on the passionate Tango dance. He was only going to be mad at me if I didn't go for it!
Besides, he's the reason I love the Tango! You don't emote those feelings in a dance without having experienced great love and all that comes with it over a lifetime. That Tango dance was for him, and he absolutely loved it.
So, you practice, and practice and practice. And your partner starts realizing that he just might as well repeat himself 50 million times on the off chance you might remember something he said. (I will say that I think I came away with one big picture item from each lesson. Not that I did them on the dance floor!
)
For example, while the last picture looks pretty good, I'm dropping my frame -- my elbow and upper body -- there. Also, in the top picture, I'm supposed to be twisting with my back, not just putting my leg out.
Now, these pictures are from our very first Tango lesson. I hope even with the technical issues that surprises you because it just came so natural. I've read that Tango is a street dance -- now that I've done it I can totally understand what that means. Because, while it would take hours and hours of practice to hone those technical moves into my brain, the tango has some simple rules, and -- most importantly -- it is very much a lead dance. In other words, body language tells you where to go. So you meet your fella on the street and he takes you for a spin. It either works for you, and the passion is there, or you are on the hunt for the next guy, looking over your shoulder until your guys says enough and shakes you back to him, and hopefully no street fight ensues, but no guarantees.
This looks good, too, but you'll notice that Rangel's knees are bent. Mine clearly aren't. That is something in the Tango you are supposed to do, bend those knees. Also, you push against each other to maintain your balance and momentum, see how hard I'm pushing with my arm? But my elbow isn't supposed to be locked out.
Details, details.
Still, I'll take it.
You'll notice from the practice photos that there are people on the dance floor, unless you happen to be lucky enough to be practicing at a time when no one else is there (at Studio 22 there are basically three dance floors -- click the link to check them out, they have so much going on!). Being from the theatre world, I'm not used to sharing stage with anyone not in the scene. I get so focused that I don't know other people are there, and then poof I'm about to run into them and where the heck were we in the routine? In one video of us practicing, I actually see people scooting out of the way, and I'm totally oblivious. Sorry guys!
Now, I think obviously, there is never enough time. We all wanted more dance lessons, and I particularly wanted to get my head in the game and understand how to approach couple dance performance. So of course, I read a number of books about dance that I loved. If you enjoyed the event or are interested, here are my suggestions:
Brand new book by the Big 5 Mirror Ball Winner himself, Derek Hough (the reason I even know anything about Shirley Ballas). Amazing how inspirational this is. I confess, that I used to be a book snob about books "by" athletes, actually written by ghost writers. Now I want more!
And because I wanted more, and also because I just spend at least 40 (!!!) hours in the car this month driving to dance practice and back, I got this audio and listened to it. Loved it in the same way, and in a different way, because it actually shares about some women's issues, and you know I'm all about that! (We'll dub Cheryl an official V Girl for being brave and sharing her story!)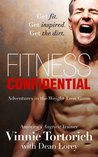 This book is about fitness. Best one I think I've ever listened to! No holding back, and while I don't endorse all his views, I love his passion! I simply must remember to tune in to his podcast.
I loved the dance competition aspect (and all the rest) of Silver Linings the movie, so I picked up the book as a cheap easy read. Loved it all over again, even though it really had nothing much about the competition!
If not for dancing, I think I would have missed this book in a sea of blue book covers. HERE IS MY REVIEW OF IT. I loved it! One of my favorite fiction books I've read this year.
Anyway, that is more of the story about my experience with Dancing with The Stars, Paris Texas style 2014, benefiting Lamar County Crime Stoppers. Even though I wasn't perfect, and knew I wouldn't be, I feel really great about what we all did out there, and why, and I'm thankful for the whole experience.